BCTGM International Executive Vice President Joseph Thibodeau has retired, ending his 48 year career with the union.
"Joe personifies what a true labor leader is," notes BCTGM International President Frank Hurt. "He remains one of the most dedicated and giving union leaders this organization has ever had. He has spent his life working hard to make sure American workers have the benefit of a fair day's wage, a healthy workplace and the dignity that comes with a union contract.
"Members of this union can be proud to have had Joe fight hard on their behalf for generations. He will be greatly missed by every member of this union— but his contributions will never be forgotten," concludes Hurt.
Thibodeau's mother worked the night shift at Cushman's Bakery in Portland, Maine for many years after his father died at a young age and she had to go to work to provide for her three small sons. When Thibodeau went to work at that same bakery in 1957, it was still non-union. He decided that the Cushman bakery workers needed the protection of a union and in 1963, Thibodeau organized the company, creating Local 166 of the American Bakery and Confectionery Workers (ABC), the AFL-CIO-affiliate bakery union.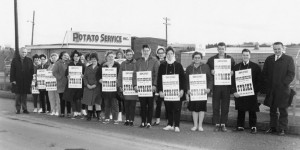 He was elected financial secretary and business agent of the local in 1964 and was re-elected the following year. In 1966, he joined the ABC's International staff as an organizer and in 1967 was made an International Representative. Thibodeau remained on staff after the ABC and B&C reunited in 1969.
In 1972, he was appointed to assist the International representative in charge of auditing the union's U.S. locals. When the International representative he was working with was elected International vice president, Thibodeau took over as International representative and auditor.
In February 1994, Thibodeau was elected as International Vice President, Region I.  He was elected to fill the post of International Executive Vice President by the union's General Executive Board in May 1998. Thibodeau was re-elected as International Executive Vice President at the 2002, 2006 and 2010 International Constitutional Conventions.
Thibodeau is retiring to his home in Searsmont, Maine with his wife of 42 years, Helen.  He plans to spend his retirement enjoying his family, which includes three grown children and five grandchildren.
When asked what it has been like working in the labor movement for 48 years, Thibodeau shugs his shoulders and says with a smile, "It has been great."