by Tulla Connell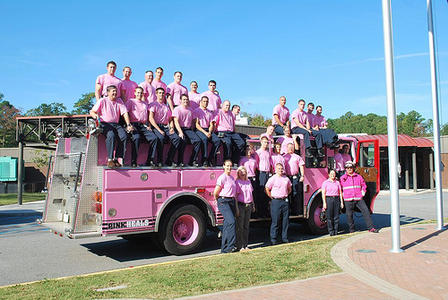 It's hard to miss a burly firefighter in a bright pink T-shirt. And for tens of thousands of Fire Fighters (IAFF) union members across the country, that's exactly the point. When the public sees them in pink tees, they are reminded that breast cancer is a deadly disease requiring regular exams and mammograms. And they are urged to help women who can't afford regular check-ups.
Although firefighters put their lives on the line every day—from braving burning buildings to risking exposure to hazardous chemicals—their commitment to their communities doesn't end with their shift at the firehouse.
Nationwide, firefighters give countless hours fundraising for breast cancer research and promoting awareness. Their efforts kick into full gear in early fall as they prepare for Breast Cancer Awareness Month each October.
"With our visibility out in the public, when we do school demonstrations or do training, it creates a lot of buzz, a lot of chatter, reminds people it's breast cancer awareness month," says Chris Leimpeter, vice president of IAFF Local 230 in San Jose.
"Everybody has been affected one way or another—whether it's their wives or mom or sister, says Mark Treglio, an IAFF Local 122 member in Jacksonville, Fla. "This is something that transcends everybody."
Treglio's fire department is among dozens that participate in the Pink Heals tour, caravans of pink-painted fire trucks that travel from community to community to educate students and connect with the public about how they can help end this deadly disease.
The IAFF in 2010 passed a convention resolution encouraging affiliated local unions to support breast cancer awareness and cancer-related charities. Many already were doing so. In Berwyn, Ill., the 80 IAFF Local 506 members stand on street corners in pink T-shirts collecting funds from passersby. Other fire fighters buy goods to sell from IAFF's online store, which is packed with pink merchandise: bumper stickers, lapel pins, drawstring bags. Some participate in the Passionately Pink for the Cure campaign, many enter IAFF's pink T-shirt design contest and all raise money for breast cancer awareness.
With 1,200 members, Jacksonville Local 122 is a stand-out, raising $600,000 for local charities in the past three years.
One of those, the Donna Foundation, helps pay for breast cancer treatment for those who can't. Jacksonville newscaster Donna Deegan, a three-time breast cancer survivor, founded the organization in 2003. Accepting last year's $5,000 check from Local 122, Deegan said it would help "underserved people who can't afford their critical care when they're undergoing treatment."
For many firefighters, raising breast cancer awareness is deeply personal. Leimpeter's wife was 33 when she was diagnosed with the disease in 2005. Because it was detected early, she has made a full recovery. Leimpeter is determined that others won't experience this life-threatening illness. 
"A lot of guys have daughters and they'd like to see [breast cancer] wiped out before they get that age," Leimpeter says.
"IAFF members are all dedicated to saving lives—and not just when responding to an emergency," says IAFF General President Harold A. Schaitberger.
"When you put on your uniform, that's part of the job, giving back to the community," says Treglio. "If you don't want to give back to the community, this isn't the job for you."
As Leimpeter says: "Firefighters in general…we want to make everything right. We want people to prosper and have healthy lives. This is what we do 24 hours a day, not just when we're on the job."