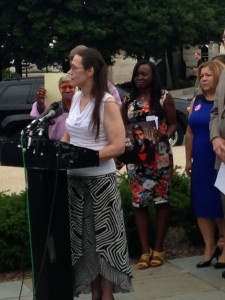 For 78 years, the National Labor Relations Board (NLRB) has safeguarded the rights of workers to organize and collectively bargain to improve their wages, benefits and workplace environment. Next month, the NLRB's power to protect more than 80 million private-sector workers could be further limited when the term of one of the current members is set to expire, leaving the board inoperable and without a quorum.
Frustrated by Republican attempts to prevent a vote on President Obama's five nominees to the NLRB and a recent court decision challenging the validity of President Obama's recess appointments, several members of Congress gathered with workers this morning to deliver a letter signed by 201 House Democrats to Sen. Mitch McConnell (R-Ky.). The letter urged him to allow a vote and end attempts to shut down the board and strip it of its ability to enforce our country's labor laws.
Reps. Linda Sanchez (D-Calif.) and Joe Courtney (D-Conn.) organized the event, and were accompanied by Reps. Mark Pocan (D-Wis.), Rosa DeLauro (D-Conn.) and Bill Foster (D-Ill.), who all spoke about the importance of a functioning NLRB to protect America's workers from workplace discrimination and unfair labor practices.
Joining them at the podium were several working people who have been effected by the stagnant Board – including Michigan Panera worker Kathleen Von Eitzen, whose story illustrates the challenges of a non-functioning NLRB:
Kathleen Von Eitzen, a 55-year-old Panera baker who makes $21,000 a year, is unable to afford health insurance for her family. Even though her husband has had two heart attacks, she often has to choose between buying food or medicine. Desperate to earn a livable wage and prevent her house from falling into foreclosure, Von Eitzen led her co-workers as they organized to form a union with BCTGM. Unfortunately, Von Eitzen's boss resisted the workers' efforts to unionize and retaliated against employees through firing, loss of pay and bonuses and negative semi-annual evaluations for the workers involved.
The franchise was found in court to have violated labor law and the Panera workers were to receive both back pay and front pay because of the company cutting hours. The NLRB also issued a judgment against the company for refusing to recognize the union under the National Labor Relations Act. However, Panera filed an appeal and the court is in legal limbo awaiting the Supreme Court decision and the confirmation of the NLRB members.
Meanwhile, Von Eitzen and her co-workers are working without a contract and in a hostile work environment, as the franchise continues to refuse to recognize their union.
"We have pride in our work," Von Eitzen said. "We believe what the company advertises that we are artisan bakers. They have based their commercials on us. Come respect us and let us achieve a livable wage."
Heartbreaking stories like this will continue if the NLRB is not able to fulfill its mission. As Von Eitzen said this morning, "My husband needs his prescriptions. I would like to afford his medications. Please, Sen. McConnell, confirm these nominees."
Click here to view a July 9 clip from MSNBC's ALL IN with Chris Hayes featuring some of Kathleen's words and other scenes from this event.