Delight your friends and loved ones with holiday treats made by hard-working BCTGM members! Listed here is a small sampling of holiday sweets made by BCTGM members in the U.S. and Canada.
Allan Candy Company
Allan Traditional Candy Canes (Peppermint, Cherry and Mini Peppermint), Allan Holiday Collection Candy Canes (French Vanilla & Gingerbread, Butterscotch & Cappucino, Mini Canes), Allan Fruit Buddies Candy Canes, Allan Chewy Candy Canes.
BCTGM Local 350T (Granby, Quebec)
Brown & Haley
Holiday gift boxes, baskets, tins and packages filled with the company's renowned Almond
Roca, Cashew Roca, Mocha Roca, Sugar Free Almond Roca and Candy Cane Roca.
BCTGM Local 9 (Seattle)
Dare Foods Limited
A variety of gums, jellies, hard candy and gift tubs, festive filled with Icy & Spicy Mints, Snowdrift Mints, festive colored Ju Jubes and Dare's Scotch Mints.
BCTGM Local 264 (Toronto, Ontario)
Frankford Candy & Chocolate
Holiday candy toys, gift baskets, tins boxes and packs filled with gums, jellies, hard candy, molded filled, hollow and solid chocolate under the Frankford name.
BCTGM Local 6 (Philadelphia)
Pearson's Candy Company
Holiday tins, bagged and chocolate mints including The Nut Goodie Bar, Salted Nut Roll, and Pearson's Mint Patties.
BCTGM Local 22 (Twin Cities, Minn.)
Sconza Candy Company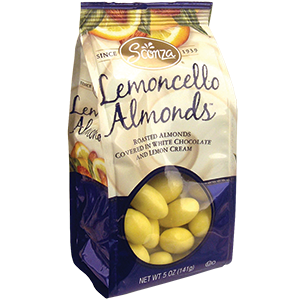 Red, White & Green Chocolate Jordanetts, Christmas Bell Jellies and Rings, Reindeer Corn, Red, White & Green Boston Baked Beans, Yogurt Raisins, Lemoncello Almonds, Chocolate/Yogurt Fruit & Raisins.
BCTGM Local 125 (San Leandro, Calif.)
See's Candies
Holiday tins, baskets, boxes with hard, soft and nut chocolate candies, peppermint twists, fudge and foil chocolate. Chocolate Assortment, Nuts & Chews, Truffles, Lollypops, Brittles & Toffees.
BCTGM Local 125 (San Leandro, Calif.)
[note]
Eat Your Union-Made PIE too!
BCTGM Local 81 members at the Sara Lee Hillshire Bakery in Traverse City, Mich. produce a wide variety of Sara Lee brand fruit and crème pies as well as seasonal specialties such as pumpkin pie, sweet potato pie and pecan pie. There are more than 25 different Sara Lee pies made by members of Local 81.
New for the holidays is the Sara Lee Special Holiday Pie Collection which includes Andes Mint Pie and Turtle Pie.
Also for the holidays, be sure to pick up a union-made Sara Lee Cheese Cake – original, French or New York Style – to enjoy with your family.
[/note]
Other Union-Made in North America Goodies
This year, the National Retail Federation is projecting that Americans will spend more than $600 billion dollars celebrating the holidays. Most of that money will be spent on gifts. According to a recent Gallup survey, the average U.S. adult plans to spend $781 dollars on gifts this year, which is significantly up from $704 last November.
As a union member, you realize the importance of supporting North American jobs by buying goods and services that are union made in North America. For this holiday season, commit to purchasing union-made, North American-made gifts and holiday treats. You can also support your small local craftspeople by buying gifts and goods made locally.
Below are some Union-Made in America gift ideas:
[one-half]
Sports Equipment
American Athletic (Russell) (UAW)
Louisville Slugger (UAW and IBT)
MacGregor Golf clubs (Boilermakers [IBB])
Standard Golf (IAM)
Top-Flite golf balls (IBB)
Beauty Products
Avon (UFCW)
Caress skin care (UFCW)
ChapStick (USW)
Dove beauty products (UFCW)
Revlon (UAW)
Old Spice (UFCW)
Apparel & Accessories
Brooks Brothers (UNITE HERE)
Joseph Abboud (UNITE HERE)
OshKosh B'gosh (UFCW)
Majestic Athletic (UNITE HERE)
Timex watches (IAM)
Naturalizer shoes (UFCW)
Nunn Bush shoes (UFCW)
Red Wing Shoes (UFCW)
[/one-half]
Games
(All made by RWDSU/UFCW)
Barrel of Monkeys
Battleship
Candy Land
Chutes and Ladders
Clue
Connect 4
Game of Life
Hi Ho Cherry-O
Monopoly
Mouse Trap
Operation
Pictionary
Risk
Scrabble
Sorry
Taboo
Twister
Yahtzee
Editor's note: This is not meant to be a comprehensive list of all made in America, union-made products. Some places to find more info on those products include but are not limited to Labor 411, Union Plus, and American Rights at Work.