Local 1 Richmond Baking Workers On Strike
During the contract meeting held on Sunday, January 3, 2016 workers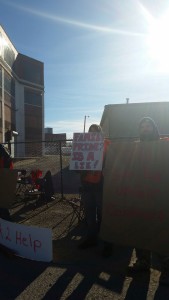 at Richmond Baking Company, members of  Local Union 1 Bakery, Confectionery, Tobacco Workers and Grain Millers International Union AFL-CIO-CLC, voted unanimously to reject the company's final offer. They later voted unanimously to set a strike date and time for 2 p.m. Monday, January 4, 2016. Negotiations with Richmond Baking Company, located at 520 N. Sixth Street Richmond Indiana, began November 11, 2015 and after eight bargaining sessions Richmond Baking Company refused the Union's efforts to settle the contract and instead opted to give its workers a final offer.
Richmond's final offer provides for no wage increases for loyal long term senior employees and relatively meager increases for other workers whose pay ranges between $8.50 and $12. While offering no wage increase for a lot of employees and meager increases for others, Richmond demands that a great majority of its employees pay at least twice as much for their health care. In addition, Richmond is demanding their employees pay much higher health care deductibles and out of pocket maximums along with higher prescription and doctor visits co-pays.  These health care concessions would force many Richmond employees to pay over one third of their base rate of pay towards health care costs.
The current offer comes on the heels of the two previous negotiations wherein Richmond forced concessions on its employees. Six years ago Richmond forced wage cuts of up to over 50% for some jobs for all new employees and three years ago Richmond took their employees defined benefit pension plan and required their employees to pay substantial contributions towards their health care costs.
Don Woods President of Local 1 said: "Workers felt disrespected and unappreciated by the company's contract offer, especially workers who started before 2005 who wouldn't receive a wage increase. There's such a high turnover that workers are putting in an average of 14 hours a day to fill orders, and they can be treated better at fast-food jobs with similar starting wages; turnover also forces longtime employees to work more hours. The working conditions are horrible. Some have to work 20 hours a day, and then the next day if they come in late, the company wants to reprimand them."
"The Union tried to encourage workers not to strike, but employees were fed up and voted to walk, despite a $500 signing bonus offered to the entire bargaining unit for accepting the contract," according to Woods.
BCTGM Midwest Region International Vice President Jethro Head, who is the lead negotiator for the Local 1 bargaining committee, said: "I repeatedly expressed to Richmond's bargaining committee how their employees felt constantly demeaned by their daily treatment and work scheduling scheme that is one-sided in favor of the company and which was designed to force employees to scramble every workday for work assignments to augment their low wages." Head continued: "Couple the daily scheduling scheme with the fact that employees have had no real increases in wages in over 6 years, plus having to shoulder an increasingly greater portion of health care costs, you get the explosive situation we have here where Richmond employees voted unanimously to strike."
"The more we give them the more they want" says Shelia Rutherford who has worked for Richmond for over 7 years. Shelia added: "We have decided it's time to stop giving back to a company that is making money and don't want to share the profits with its employees who helped them make it."
Local 1 Business Agent Rochelle Ross, who services the bakery and represent Richmond workers with daily issues, said: "I have never seen anything like this. The company calls every one of its workers a family member but treats them like they are distant cousins who are only to be disinherited."  "Richmond calls this Family Pride" says Ross, "but workers at Richmond, who a lot of the time have to work 12 to 16 hours to make ends meet because wages are too low, see this as an effort the placate them and control them by having them think they truly belong to a family – it's tantamount to a gimmick."
BCTGM Local 1 has made itself available to meet with Richmond to resolve these negotiations. The parties are scheduled to meet Saturday to resume talks.