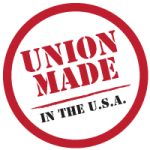 In these difficult times, when everyone is looking to stretch their paycheck, quality and value take on added importance—and that's where union products and services beat the competi­tion every time. When you buy union, you're supporting good jobs in American communities, jobs that provide living wages and benefits, safe working conditions and dignity and respect for work.
Use the following resources as a guide for buying American, union-made products and services:
An important function of the AFL-CIO Union Label Department is to help unions conduct national boycotts that have been endorsed by the AFL-CIO Executive Council. The Department maintains and publishes the "Don't Buy" list of companies being boycotted and the products and services involved.  In addition, you can see information on boycott updates.
Show your Union pride!  Get BCTGM-branded apparel and merchandise at the BCTGM Online Store.
Support union workers when you travel.  Use this tool to search for union hotels.
An updated list of the UAW's union-made vehicles.
By using the collective buying power of unions, Union Privilege is able to offer valuable, discounted products and services exclusively to working families.  Savings.  Service.  Solidarity.