Necco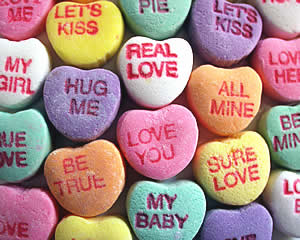 At NECCO (New England Confectionery Company), the nation's largest maker of conversation candy hearts, there are more than 100 ways to say, "I love you."
NECCO, the employer of Local 348 (Cambridge, Mass.) members, is the country's oldest multi-line candy firm. Union members at the company's Cambridge facility produce more than eight billion Sweethearts Brand Conversation Hearts annually, making it the top selling candy for Valentine's Day.
Founded in 1847, it wasn't until the 1860′s when the brother of the founder began printing sayings on colored paper and placing them inside "cockles," crisp candies shaped like scallop shells. In 1902, conversation hearts were born, along with the company's best-selling item, NECCO Wafers. In fact, both Sweethearts and NECCO Wafers use the same batter—it's 90 percent sugar, with a dash each of corn syrup, gelatin, gums and artificial colors and flavorings. BCTGM members use 40 million pounds of sugar a year to make the two candies.
However, BCTGM members at the Cambridge plant make more than hearts and wafers. In fact, including all the different packaging shapes and sizes, NECCO's product line consists of 540 items. Other BCTGM-made NECCO brands include Mary Jane (peanut butter chews); Candy House Buttons (colorful candy dots on paper strips); Sky Bar; Clark Bar, Thin Mints; Candy Sticks, Bolster Bar; Canada Mints; Candy Cupboard; CyberSpeak; and Masterpieces.