Together with the Mother Jones Museum and the Mother Jones Heritage Project, BCTGM Local 4 (St. Louis) participated in a special 180th Birthday celebration for the legendary Mother Jones.
Retired BCTGM International Vice President Jeanne Graham, a life-long admirer of the legendary Mother Jones and a major supporter of the Mt. Olive, Ill.-based Mother Jones Museum, helped coordinate the creation of a BCTGM-made cake to commemorate the life of Mother Jones. The special 180th birthday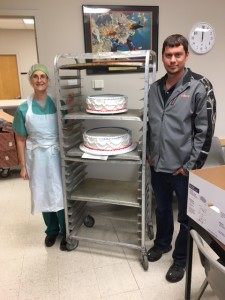 cake was made and decorated by the talented Local 4 baker Nancy Schramm and was a centerpiece of the special event according to Local 4 Financial Secretary/Business Agent Josh Camden.
Graham notes that it is only fitting that the BCTGM-made cake be part of the 180th birthday celebration as her 100th birthday cake for the birthday celebration held May 1, 1930 was made by a B&C Local 118 member. The bottom tier of that cake had the union logo decorated onto the icing.
Mother Jones is buried in Union Miners Cemetery in Mt. Olive, Illinois, in honor of the ordinary workers who built the labor movement and fought for labor rights.

Read the special article on Mother Jones on pages 8 & 9 of the May/June 2015 BCTGM NEWS.