International Executive Officers
David B. Durkee
International President
International President David B. Durkee Durkee has been a BCTGM activist since joining Local 280 (Evansville, Ind.) in 1973 as a worker at Lewis Brothers Bakery…
Steve Bertelli
International Secretary-Treasurer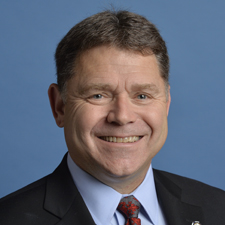 International Secretary-Treasurer Steve Bertelli began his union career in 1986 as a shift leader at Mel-O-Cream International and a member of BC&T Local 316 (Decatur, Ill.)…
International Vice Presidents
East-Central Region
Art Montminy

Vice President Montminy joined B&C Local 184 in 1975, working for Bachman Snacks. In 1978, he joined Local 348, working for Wonder Bread under Interstate Brands. In 1990, Montminy was elected as Local 348 vice president, a position he served until joining the International staff as a Representative in 1996. Montminy became an East-Central Region International Vice President in 1998.
Midwest Region 
Jethro Head

Vice President Head went to work at Curtiss Candy Company in 1974 as a plant cleaner and later a cook in Marshmallow and Baby Ruth. He became president of BCTGM Local 552 in 1984. In 1999 he became the Vice President of Local 1, and shortly after, the President of that Local.  Head was elected Midwest Region International Vice President at the September 2012 General Executive Board (GEB) Meeting, and re-elected to a full four-year term at the 2014 BCTGM Constitutional Convention.
Western Region
Shad Clark

Vice President Clark was elected to fill the position of BCTGM Western Region International Vice President on September 17, 2016 at the 99th session of the General Executive Board in Washington D.C., effective January 1, 2017. Clark was appointed to serve as a Western Region International Representative by International David Durkee on June 1, 2015. Prior to his International staff appointment, Clark served as Business Agent of BCTGM Local 114  in Portland, Ore. Clark became a BCTGM Local 114 member on September 1, 1993 when he was hired for a production job at Franz Bakery in Portland. In 2005, he was elected to serve as an at-large Local 114 Executive Board member. Soon after, Clark was elected as local's recording secretary and served in that position until 2007 when he was elected to be the Local 114 president. In August 2009, Clark was elected as the local's business agent.
Southern Region
Anthony Shelton

Vice President Shelton began his career with the Union in 1973 when he went to work at Holsum Bakery and became a member of Local 25 in Chattanooga, Tenn. He worked at Colonial Bakery from 1980 to 1992 and served numerous roles within Local 25. On March 30, 1992, Shelton was appointed by International President John DeConcini to serve as an International Representative, a position he served for 23 years. At the 97th session of the General Executive Board in Washington D.C. on September 19, 2015  Shelton was elected as Southern Region International Vice President.
Canadian Region 
Ron Piercey

Vice President Piercey began at Benson and Hedges Tobacco Co. in 1970, and served as a shop steward for BCTGM Local 325 until 1978 when he was elected president.  In 1983, he moved to Local 264 (Toronto) and became the Principal Officer. He has served on the BCTGM General Exec. Board since 2006. Piercey was elected to serve as the Canadian Region International Vice President in 2013, and re-elected for a full four-year term at the 2014 BCTGM Constitutional Convention.
(c) 2017 BCTGM | The Bakery, Confectionery, Tobacco Workers and Grain Millers International Union. All rights reserved. Any use or disclosure for any purpose other than the intent of the original distribution is prohibited.